GBU-12 Paveway I & II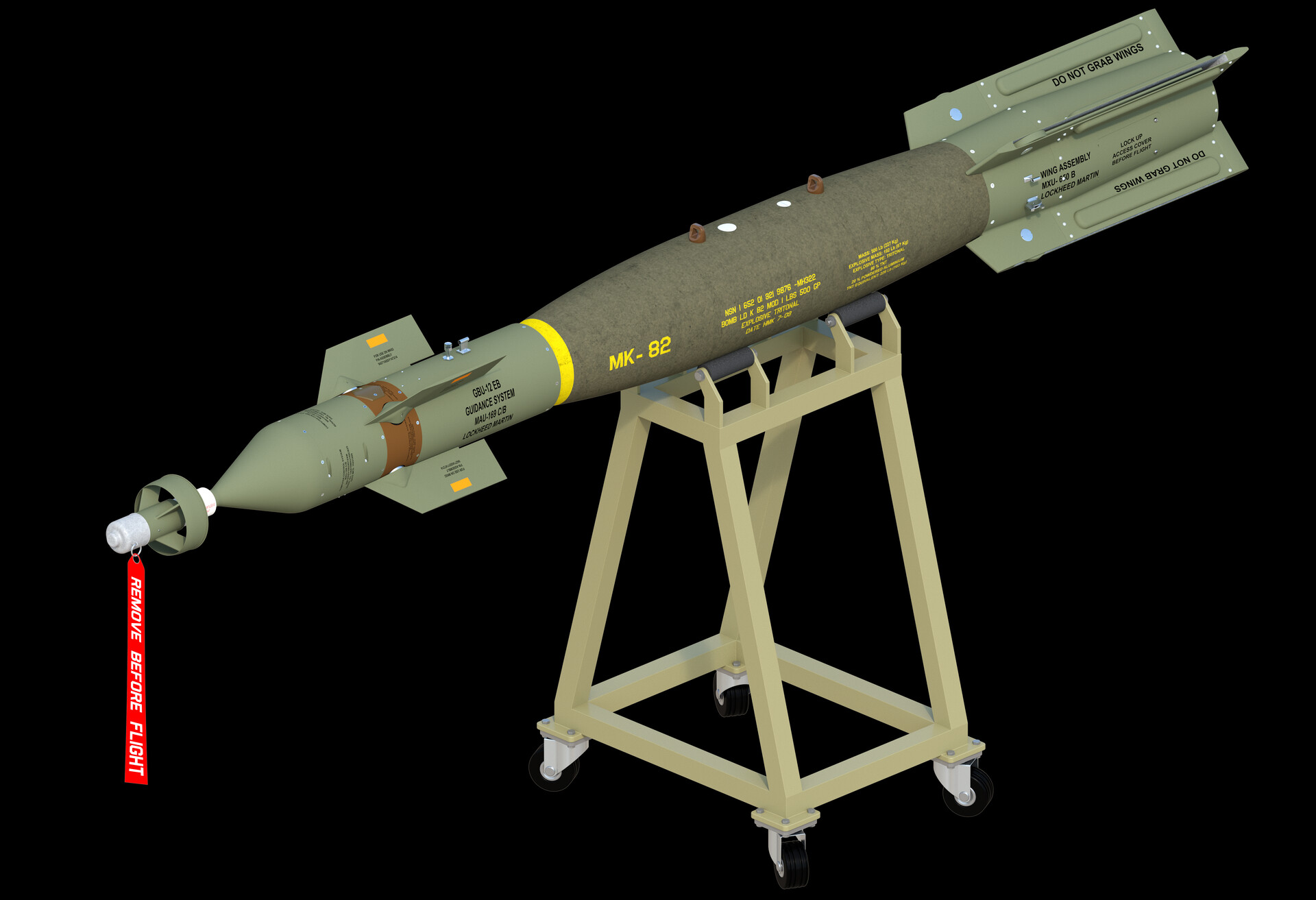 General Info:
Origin = USA
Type = High Explosive
IOC = 1976
Manufacture = Texas Instruments
Guidance method = Laser homing
Guidance System = MAU-157 Series (Paveway l), MAU-169 Series (Paveway II)
Mission = Air interdiction
Targets = Mobile hard, fixed soft, fixed hard
Platforms = A-10, F-15, F-16, F-117, F-14, F-18
Performance:
Accuracy = 30ft
Drag = 7
Min Release Alt. = 320ft
Range = 8nm
Dimensions:
Length = 132in
Diameter = 11in
Fin Span = 52in
Weight = 800 lbs
Warhead:
MK-82 Blast/Fragmentation (192 lbs Tritonal, PBXN-109 )
Lethal Radius = 750ft
Fuse = Contact (FMU-81)
The Guided Bomb Unit-12 (GBU-12) utilizes a 500-pound general purpose warhead. The operator illuminates a target with a laser designator and then the munition guides to a spot of laser energy reflected from the target.
The munition was used during Operation Desert Storm, and, according to the Air Force, hit 88 percent of its targets. During Desert Storm the GBU-12 was dropped by F-lllFs, F-15Es, and A-6s, mostly against fixed armor. It was the F-111F tank-busting weapon of choice. Of the 4,493 GBU-12s employed, over half were dropped by the F-lllF.
There are two generations of GBU-12 LGBs: Paveway I with fixed wings and Paveway II with folding wings. Paveway II models have the following improvements: detector optics and housing made of injection-molded plastic to reduce weight and cost; increased detector sensitiv- ity; reduced thermal battery delay after release; increased maximum canard deflection; laser coding; folding wings for carriage, and increased detector field of view. (Paveway II's instantaneous field of view is thirty percent greater than that of the Paveway I's field of view).
Last edited: